Oh what a lovely four days off it was! Since it was just the three of us, I decided against cooking on Thursday. I mean honestly, who wants to rush a huge cooking spree the first day of a long weekend? Not me! I procrastinate too much.
So instead I staggered some of the chore...
joy
and served up a huge meal to family & friends (a whole five of us total) on Saturday. Wednesday after work, I shopped for food armed with my handy excel print out of all ingredients. Yes, I am an excel guru. I entered the entire menu, ingredients labeled and sorted before printing out my list. Now realize I was cooking for five. In my mind that number immediately changes to 10, possibly 15 depending on the dish! So my cart was pretty full and pricey but I did not let that stop me.
My awesome hubby, LB, carted all those bags up the stairs for me and I had the arduous task of stuffing the fridge to get everything in but still functional. I had chickpea cutlets to make for dinner! Which I did and they turned out awesome. I fried them for my first attempt and scarfed them down with rice and smashed cauliflower, neither of which I got a picture of.
Smashed Cauliflower
1 bag Cauliflower, frozen (half a large head fresh, florets)
1/4c Soy Cheese, mild white flavor, diced small
4oz Better than Cream Cheese
2T Vegan Parm or Nutritional Yeast
Garlic
Basil
Salt & Pepper
Steam the cauliflower until easily pierced with a fork but not mush. Strain and put back on the heat. Add in the cheeses & spices and allow to warm on a low heat until the cheese is melted. Mash with a potato masher. Serve this creamy cheesey goodness to friends & family.
Ok now that you have my super seekret Smashed Cauli recipe in hand, let me tell you more about my weekend. Thursday, I stayed in my jammies all day! I made Bryanna Clark Grogan's Soy & Seitan Turkey. I subbed black beans for the tofu and added in sage, thyme and rosemary in the dry ingredients. Since I am lazy I do not make two loaves, I make one... one big one.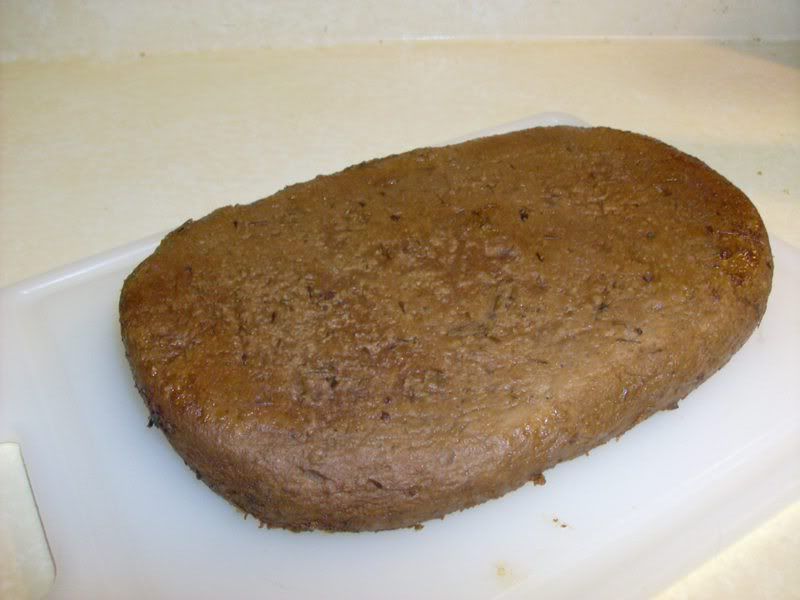 The yummy cooked roast, cooling on a cutting board before being swaddled in foil and resting in the fridge till the big meal.
I also made
bread
for dressing & rolls. This dough was so awesome. Light, soft and a joy to kneed even if the recipe says you can do without. Doesn't it just look like fun?
So ended my Thursday. The kid drove me insane watching Buffy season 2 & 3 and we played EQ2 for the remainder of the evening!
Friday dawned cold and I did have to change out of my PJ's. Unfortunately we needed things despite it being Buy Nothing Day. A trip to the fabric store for pins got us yarn & fleece fabric for a blanket. A visit to the book store got Angel a book she had been bugging me for. On sale, which was nice! I then headed to the liquor store for Saturday booze & another trip to the grocery for lunch. Burgers & tater tots. mmmm Again no pics of lunch, I was too busy scarfing it down at 3pm to fiddle with the camera. Boca Vegan patties with portobello mushrooms, sauted onions and LiteLife Smart Bacon. I added lettuce tomato and avocado on my poppy seed hard roll and it was awesome.
I then spend time making two pies, one
chocolate
and one
pumpkin
. Since I am not a fan of pie crust I used vegan prepackaged graham and chocolate crumb crusts. Did you think I got a pic of either? Yeah, I thought not!
The rest of the evening was spent altering Angel's Winter Ball dress. We picked it up at Goodwill for $27 with the manufacturers tags still on it. I figured I could simply buy her something else if I ruined it! That damn thing took me all night to hem. *cries* My poor machine made 3 broken needles. But she was happy and we did not have to shop for another dress. Just do NOT get me started on the foundation garments or jewelery! *sobs*
Saturday dawned lovely though cold and I was up cooking at 9am! First were the appetizers.
Cranberry Salsa
,
Artichoke dip
, hummus and Ranch Dip; along with breads, chips, crudities and olives! Oh and do NOT forget Norm's Marinated Mushrooms!
Chocolate Chip Cookies
were made next and everything set out.
So the three of us noshed on a table full of goodies for a while before I resumed cooking. Should I mention the mimosa's I drank to get through this lovely day? No, I thought not. I plopped my SoySeiTurkey in the oven beside my homemade dressing (from homemade bread crumbs no less!),
green bean casserole
and rolls to reheat.
Now I would give you a recipe for the stuffing, but I simply improvised the entire thing. Did not measure any of the veggies I minced; onion, celery, carrot, or bell pepper, nor the Earth Balance, and water. I did use just one cube of Knor Veggie Bullion! haha All this I poured into a heaping bowl of cubed bread before folding it over gently. I prefer to see that it used to be cubed bread, not a great big mash of sticky dough. I then dotted the bottom of the pyrex dish with more Earth Balance before gently resting the dressing into it. Feeling like Paula D, I dotted the top with another tablespoon of EB. Sometimes you just have to!
Dressing aside I made the Green Bean Casserole pretty much the same way. Toss in mushrooms, saute, toss in EB, slop in soy milk until liquidy. Add in green beans and plop in the oven. I did link the recipe above that I vaguely followed! Its good stuff. I did top it with French's Fried Onions. Someday I must learn how to make my own crispy onion goodness. *drools*
Mashed potatoes & gravy were next and easiest to whip up. First thing though, I ruined my first round of mushrooms by putting them in the food processor. That batch simmered for an hour before I set it aside for something else, probably a chickpea casserole, and started new. The second attempt went beautifully and my mushroom gravy while chunky (from the big mushrooms) was delish! Again, mostly just 18oz mushrooms, herbs, garlic & veg stock.
I cook by feel and whim which does NOT lend itself to accurate recipe recounts. If something looks dry, I add more liquid. If it looks wet, I add more dry. It usually works. haha! But you came for the pr0n, not my sorry excuses! So here are the pictures of the table along with the full menu.
Appetizers:


Cranberry Salsa w/ Wheat Thins & Pita Chips


Hummus w/ Pita Bread


Crudites of Carrot, Celery, Bell Pepper, Radish, Olives w/ Ranch Dip


Marinated Mushrooms


Artichoke Dip w/ sliced baguette




Dinner:


Soy & Seitan Roast


Dressing



Garlic Mashed Potatoes


Green Bean Casserole


Kale w/ Onion & Smart Bacon


Mushroom Gravy


Cranberry Sauce


Rolls




Dessert:


Pumpkin Pie w/ Soya Too Whip


Chocolate Mouse Pie


Chocolate Chip Cookies


Soy Ice Cream - Vanilla




Drinks:


Sparkling Cider


Seven Up


White Wine
Yeah, thats a Mimosa at my plate. Luckily the kid drank the sparkling cider. heh Happy Thanksgiving all. I am thankful for my loving family, friends, happiness and health.